"Look, it's been four years and a lot has happened in my life in that time, not least of which has been rebuilding my journalism career from 'scratch'. That's taken a lot of hard work and sacrifice, and every day is a reminder that "you're only as good as your last story."
It seems fitting that for my first interview I would have the pleasure of speaking with a Kenyan man with an extensive knowledge of several of my passions: Africa and Journalism.
I was born in Kenya, and recently travelled there, so I had many questions regarding the country. I was also curious to learn what its like to be a journalist in Africa, and hear some first hand stories.
There is much I WANNA KNOW and Jeff provides the perfect soundboard to address these questions.
Jeff Koinange first came to my attention when I stumbled upon his interview with Rwandan President Paul Kagame on youtube. I was immediately struck by his persona: a cross between a talk show host and a boxing announcer.
After some quick research I discovered that Jeff Koinange was a big deal in the world of international journalism. He is an Emmy Award winning journalist for his coverage of the Niger famine, he had been the chief African reporter for CNN from 2001 to 2007, and he has covered major international stories around the world.
However, a lot of media attention has surrounded his sudden departure from CNN. With accusations of 'stage managing' stories, Jeff and CNN cut ties in 2007. Currently, he is working to rebuild his reputation at Kenya's 24-hour news channel K24.
In this interview I ask Jeff about his career, get his opinions on recent world events, and allow him to tell us his side of the story with CNN.
From Phil Collins, to Osama Bin Laden, to Oprah Winfrey. We cover it all.
* * *
Ryan Kohls: First, let's get right into one of the biggest news stories and get your take. Osama Bin Laden. What was your initial reaction to his death, and what has been the general reaction from Kenyans? (As we know, Bin Laden was responsible for bombing the US embassy in Nairobi in 1998)
Jeff Koinange: My initial reaction was "WOW." I couldn't believe that the world's most wanted terrorist had been killed. I, like millions of viewers across the globe, was glued to my TV set and followed the events throughout that Sunday. I then started making calls to friends I knew who had lost family members during the horrific US Embassy bombings back on August 7th, 1998 (an event which I covered for Reuters Television) and there was a tremendous sense of relief and 'closure' that the man responsible for all their suffering of the past 13-years had finally been brought to justice.
RK: There are have been many big international news stories coming out of Kenya in the past 6 months. I'm curious to get your take on a few. First. Wikileaks. Was the leak counterproductive for international relations, or important for political accountability? What has been the reaction of Kenyans to the information from wikileaks about their own political leaders?
JK: You'd be surprised that the majority of Kenyans have NO idea what Wikileaks is all about. The fact that 'Diplomatic Cables' sent by US Ambassadors to their 'Superiors' at the State Department informing them of the goings-on in various capitals around the world is not of much concern and rather is seen more as 'Gossip' about this person and that person. Having said that, those who do know about what Wikileaks had to say was more a confirmation of what they already knew: namely what the local politicians felt about each other but wouldn't say in public although they did to the US Ambassador in Nairobi.
RK: Second. The Ocampo Six continues to permeate the news. Some have accused you of buying into conspiracy theories regarding the ICC's intentions. Do you still stand behind these notions? If so, could you elaborate for me? If not, how important is it for Kenya's future that this trial reaches a just conclusion?
JK: (laughs) Accusing me of 'buying into conspiracy theories'? That's funny. If anyone has put out both sides of the argument for and against the ICC, I think it's me. I say this because it's NOT right to just go with the flow and literally bend over backwards to the ICC just because it's a so-called world court. This is not Liberia or DRC where people just kow-tow to the notion of the ICC.
There's nothing wrong with questioning the ICC, and what it stands for and none other than the ICC's very own Chief Prosecutor, Luis Moreno Ocampo, agreed with me and more so agreed to sit down to an interview with me on 'The Bench' at The Hague when we went for the Initial Appearance Hearing back on April 7th (check out my interview with Ocampo on www.youtube.com/k24tv). Ocampo liked the fact that Kenyans question the legitimacy of the ICC, but he also went on to say that there are some Kenyans with a case to answer. Whether they are guilty or not, that's for the judges at the ICC to determine and that's why they have to go through the process.
That's justice and if that's what it takes for Kenyans to move on, so be it.
RK: Third. In relation to the outcome of the Ocampo Six, how do you foresee the upcoming elections turning out? Many are worried over renewed ethnic violence. What's your prediction?
JK: I personally don't believe Kenyans will ever go back to what they saw in 2007/08. That's my feeling. We stared into the abyss and we didn't like what we saw and we pulled back. That doesn't mean we don't like to 'dance with the Devil' every now and then.
Having said that, a lot of what transpires in 2012 depends on the outcome of the ICC hearings scheduled for Sept 1st and Sept 21st respectively. I say this because some of those accused have already declared their intentions to run for President in the elections. If they're proved innocent at The Hague then that changes the whole equation of the line-up for 2012. If they fail at The Hague, then that too changes the landscape of potential Presidential candidates.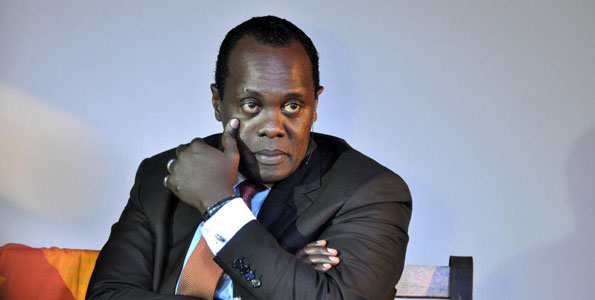 RK: I'd like to now turn to discussing your career, and the role of journalists in today's world. First, give us a brief background on your story. Why did you get into journalism? What inspired you?
JK: This is my 20th year in this business having graduated from New York University with a BA in Broadcast Journalism back in 1991 after which I got my first job in May at ABC-News in New York. You can say I'm a 'Veteran' having covered some of the most memorable and influential stories on the African Continent and beyond in the last two decades…. from the fall of Mobutu Sese Seko in what was then Zaire, to the Hijacking and subsequent crash in the Indian Ocean of the Ethiopian Airlines flight, to the flood in Mozambique, to civil wars in both Liberia and Sierra Leone, to Multi-party Democracy in countries like Nigeria and Kenya, to the assassination and subsequent funeral of DRC's Laurent Kabila and many many more stories. And outside the continent, I spent more than two months in Baghdad covering that conflict and also another month in New Orleans covering Hurricane Katrina and it's aftermath.
Not bad for someone who got into this business quite by accident. I had been working as a flight attendant back in the mid 1980s for Pan Am World Airways and by making the announcements on the plane, passengers would literally encourage me to go to school and get an education in broadcasting that would help me earn a living and eventually make a lasting impact. I'm not there yet, but my journey continues every single day that I am allowed to practice this noble profession.
RK: Currently journalism seems to be in a radical shift where news is ubiquitous, and open to anyone (people reporting from twitter, youtube, etc). How important have new social media outlets been for today's journalists? In terms of credibility and reliability, do you see any conflicts with this?
JK: Social Media is the future and it's no doubt here to stay. No one can argue about that, especially having seen the events literally unfolding on facebook and twitter in the revolutions in Tunisia and Egypt earlier this year. Social media is also the only way to tell some of the stories happening today in such restricted regimes as Syria, Yemen and Bahrain where cameras and journalists have been barred from reporting. Having said that, it is important to always remember one of the first rules of journalism, namely that one has to have more than one source to confirm a story and just as important, tell both sides of the story. Sometimes in a rush to get the news out first, some broadcast outlets forget that rule and someone in 'Social Media-land' can take advantage of that by 'pushing' only one side of a conflict. That's where the danger lies but it's something that can easily be avoided by getting more than one source and telling BOTH sides of the story.
RK: A lot of controversy has surrounded your departure from CNN in 2007. Is there anything left to say about this? If so, could you tell my readers your side? Were you unfairly portrayed in the international media?
JK: Look, it's been four years and a lot has happened in my life in that time not least of which has been rebuilding my journalism career from 'scratch'. That's taken a lot of hard work and sacrifice and every day is a reminder that "you're only as good as your last story".
Was I treated unfairly? Who knows what the agenda was. Other journalists have committed real crimes and have been allowed to literally get away with it. All I know is that if I were ever to do the story I was grossly and unfairly accused of 'stage managing' in Nigeria's Niger Delta, I wouldn't change a thing. Every fact was in the story and no one could deny that. As for the rumors and allegations that appeared on the internet, well that's par-for-the-course when you're in this business. You just have to have a strong back and an even stronger character to withstand all the hate and horrible human beings out there who's sole motive in life is what we in Kenya call the PHD syndrome, namely 'Pull Him or Her Down'. Like a good friend once told me, when you're thrown off your horse you roll over, dust yourself off, get up and quickly get back on the horse and ride. Either that or lie there and let yourself get trampled to death. I'm back on the horse….and riding fast.
RK: In all your days covering the world, are there any stories or interviews that stand out as the defining moments?
JK: Perhaps the story that had the greatest impact was at CNN was when I partnered with Anderson Cooper of AC360 to cover a devastating famine in the West African nation of Niger. We called the series 'Starving In Plain Sight' and the impact of our reporting actually saw help arriving in the country and staving off what could have been a potentially horrific situation. That was a story that won us a Television Emmy, one of my greatest achievements in my broadcasting career.
There was also another story we covered in a tiny town In Eastern Congo called Bukavu where we happened on a clinic run by a single Congolese Doctor who was treating more than six hundred women aged between seven years and seventy years old and all of whom had been raped repeatedly by men in the uniform of the Congolese army. That story made me so angry and so helpless at the same time that I did a story that literally woke-up the world. By the time the story aired, help was coming to Bukavu in droves, everything from doctors in the West volunteering their time to ordinary people sending care packages by the container-load to help these helpless victims. I remember one woman telling me through an interpreter after we had returned to the clinic for a follow-up visit, "Thank you for being the voice of the voiceless". This is one of the reasons I'm still a journalist to this day. Reactions from ordinary citizens like that make up for all the hatred and negativity that permeates the world.
RK: On the opposite end, are there any interviews or stories that were complete disasters?
JK: I do a daily 30-minute talk show on the station that I work for called K24. I've been doing this for the last three-and-a-half years and the show airs seven days a week, 365 days a year (We repeat the show on weekends). What happens is I pick a 'theme' for the week and my producer and I look for five guests to complement that 'theme'. If you do the math, I've done more than a thousand interviews in the last three-and-a-half years. That's no mean feat. Have there been some boring guests? Sure. Have there been guests who were amazing? Absolutely. What I know is that it's my job to inform, entertain and most importantly educate my people because I feel this is my duty. This is my calling and that whatever happened in the past is past…I am in the right place at the right time.
RK: You met one of the most influential people in the world: Oprah. What was that like?
JK: I'm glad you asked me about Oprah because I think she is one of the most Amazing people I have ever met in my life. And again, here's a perfect example of a person who has been selfless in her life, who cares deeply about other human beings especially those who have next to nothing to live for. Maybe because of her tough upbringing, she is able to give hope to the hopeless and help to the helpless.
I first met Oprah in Soweto where she had personally gone to interview underprivileged girls who had applied to a school that Oprah had built with her own money…make that 50 Million US Dollars of her own money. How many people of her caliber do you know who would spend that kind of cash to educate children she doesn't know in a land so far away? Me, not many. Make that, none. Oprah did it and the kids are now in school and getting something they would otherwise never have gotten, namely an education. And like Oprah said to one of the girls one time when I was doing the story, "you're future is so bright, it burns my eyes." Oprah showed the world that it's alright to care, it's alright to make a different in a child's life…and she's doing it to this day…. one girl/child at a time.
RK: From one Kenyan to another, is there anything worse than being stuck in a traffic jam on Thika road!?
JK: (laughs) Yes, being stuck in a 'Matatu' in the rain on Thika Road. And it happens to so many Kenyans who commute to the city to work. Imagine leaving your house in the dead of night and coming back in the dead of night, five days a week. Unimaginable. But then again, this time next year, we'll all be saying, "I wonder what life was like before" as we speed down the eight-lane Super Highway that will be the new Thika Road. Imagine that for a moment. To me, the glass is half-full. To others, it's half-empty.
RK: And finally: it's a Saturday night, and you want to hear some music. Who are your favorite artists?
JK: Wow, I'm Old School so if it's Saturday night I'll go for everything from Gil Scott Heron, to Hootie and The Blowfish, to Joshua Kadison, to Phil Collins, to my African favourites, Ismael Lo, Afro-Tenor, Youssu N'Dour, Soweto Stings Quartet, Hugh Masekela, to Oliver Mutukudzi. And to cap it all of, the legend himself, Bob Marley. What an evening!!!!!!!!
For more information on Jeff Koinange:
1) Follow him on his twitter @koinangejeff
2) Check out some of his full length interviews at http://www.youtube.com/user/K24TV