"Who wants to do this? I never wanted to put out  my story like this … but I was so convicted by this experience I knew it was a must. I'd much rather look cool to the public, but I had to take my cool off and say, "this happened to me."


B y profession and definition, a cocaine rapper named Malice seems like an unlikely candidate to write a book professing a love for God, and a hatred for his former ways.
Sometimes fact is more intriguing than fiction.
Hailing from Norfolk, Virginia, Gene Thornton Jr, popularly known as Malice, is one half of the critically acclaimed rap duo Clipse. The other half of the group is Malice's younger brother Terrence Thornton (a.k.a Pusha T). Since their formation in 1993, Clipse have released three highly touted studio records: Lord Willin' (2002), Hell Hath No Fury (2006), and Til The Casket Drops (2009). Backed mainly by the production of fellow Virginia superstars the Neptunes, they have carved a sizable niche for themselves in Hip Hop. Though there have been some major up's and down's in their musical career – including constant problems with record labels – they have attained a steady level of success and credibility.
Undeniably, it has been Clipse consistent glorification of cocaine that has marked their sound. As self-proclaimed former drug dealers, Malice and Pusha have brought a ton of cocaine inspired verses to the masses. On their first groundbreaking single, Grindin, Pusha refers to himself as Mr. Sniffles, and Malice calls himself the Baker's Man. However, despite the bravado of most Clipse songs, there was always a dichotomy between Malice and Pusha. While Pusha always brought a flashier style, Malice often seemed conflicted. On the song Freedom from Til The Casket Drops Pusha raps:
"We in the same group but I don't share my brothers pain/ Not to confuse, Our sentiments are all the same/ I just don't feel nothing, I'm numb by the will to gain."
When Malice comes in during the second verse he responds:
"Am I my brothers keeper for himself every man?/ I have been your reaper, there's blood on my hands/ Except me as your keeper, there's been a change of plans/ Be careful of what you speak of, I've come to understand."
Without paying close attention to the lyrics one could easily miss the "ying and yang" dynamic that exists between the brothers, but it has been there since the beginning. Although Malice frequently raps about his faith in God on Clipse records, there was little to substantiate this outside of music. He may have been conflicted, but that never stopped him for indulging in his success, or continuing to push the cocaine branding of Clipse.
Everything began to change April 28, 2010. It was on this day that the Clipse manager, and friend, Anthony "Tony G" Gonzalez was arrested and charged with leading a 10 million dollar drug ring. In January of 2010, he was convicted and sentenced to 32 years in jail.
This event had a tremendous impact on Malice, as the consequences of the lifestyle he promoted finally caught up with his circle. Following the arrest of Tony G, a spiral of events began to change Malice. Most significantly, he began to experience what he describes as the Furnace of Affliction, a Biblical event where God seeks to purify a person. These experiences radically changed Malice's life, so much so that he decided he needed to step out of music, and tell his story.
Enter, Wretched, Pitiful, Poor, Blind, and Naked, a book that tells Malice's complete life story and spiritual transformation. If anyone was shocked that Malice decided to do this, it was him. He writes on his website that, "I was trying to be a rapper, not an author. Never would I have ever imagined that I would have to share a story so personal and of such magnitude with the entire world." The recently released book is now in stores across America, and available online.
While Malice has decided to write this book, his brother Pusha T has embarked on a solo project for the time being. It has been highly successful already: he's signed with Kanye West's G.O.O.D. Music label, and preparing to release a full length album soon.
The Clipse, as a group, are not finished and will return, but in the meantime Malice is consumed by the need to tell his story to all those who will listen.
I had the pleasure of speaking with Malice over the phone while he was in the midst of an American book tour. He kindly answered all of my questions.
With an extensive knowledge on all things hip hop, and an inspiring story to tell, there is much I WANNA KNOW from Malice
From the Furnace of Affliction, to the pitfalls of money, to Pusha T and Clipse, to Malice's love for Eurythmics and David Bowie, we cover it all.  
* * *
Ryan Kohls: First off, congratulations on your book. I was wondering if we could start at the beginning of this process. Why did you decide you needed to step back from rap and tell your story?
Malice: Well, reason being was I just felt like this was a story that I know wasn't solely meant for me. I knew that it was a story meant to be shared with the people that have followed me, and supported me, and were fans of the music. I thought it was only fair to share both sides of this multi-dimensional lifestyle that I've lived.
RK: For those who haven't had a chance to read the book, what exactly does it entail? And, why do you think people should care to read it?
M:  For those who have not read the book – how could I sum it up? – it's about how everything is not always what it seems. I think it is an eye opener, and helpful. It puts an end to fallacies, false hopes and dreams. It makes you pay attention to things that are real, relevant, and matter, as opposed to a superficial lifestyle.
I feel that people should really read this story, especially the youth and anyone who is aspiring to be a rapper. I feel like everyone is trying to be a rapper these days. I'm from Virginia, and literally everyone wants to rap. It's not impossible to get into this industry, but you must have your foundation, and you must have your morals and principles established because once you get in this industry it can be a whirlwind. A lot of things can come your way, and if you're not rooted in something you will sway every which kind of way.
My point is not to tell anybody how to be, but to just share what I have been through. I think the story is very enlightening. With the Clipse, I think our fans are so in tune with us because our music is very genuine, and it's very real. I think our fans identify with that. I think what they will walk away from this book is the full gambit, the full perspective, the in's and out's, and how everything is not always what it seems. Definitely, they will be able to witness the true living power of a very present God.
RK: In the book, you speak about the Furnace of Affliction. Can you explain
that to me in a little bit more detail what that is, and how you feel you experienced it?
M: This thing happened over time. When you get into this Furnace of Affliction it's not a one day, one night thing. It is definitely a process. You can liken it to the silversmith, and how he takes a piece of silver puts it into a fire and burns all the impurities out of it. That is really what happened to me.
Without preaching, but I must say what I know, the Bible says we do not call on God, or think about him, until there is a problem, or some sort of calamity or suffering. When your bills are paid, and you have money, and you are out here doing what it is you want to do, there is no way that you're even thinking about God. Period. It is his desire that none shall perish, so if He has to get your attention He will. That is exactly what my Affliction was about. My lifestyle was very unsavory, and he gave me the chance to really correct a lot of the things that I was doing, and I believe it was not solely because of my lifestyle but because of the people I had the chance to influence. After I found out about this Furnace of Affliction I began to do research, because I had to know who else went through this kind of thing. In my research it even said in the Furnace of Affliction that a lot of times these people had the capacity of reaching a lot of people, and I knew it was that after reading that.  
The Furnace of Affliction is a very, very real thing, and I had the luxury of experiencing it. I heard a preacher on TV say, "I don't care if you've been pastoring, or ministering, for 50 years, if you have not experienced the Furnace of Affliction there is not too much that you know." I felt that that statement coming from a Pastor was very profound, because what I went through the Bible definitely correlates to that.
I feel very lucky to have put out a total of three albums, and a fourth you can get online, that gave the public a chance to know me and to value me for being credible. If you followed me in the group at all, I wouldn't just do something like this. I am very surprised, and still in shock, through this. If you believe anything I said before, you can still trust and believe me now.
RK: You mention your unsavory lifestyle. Money seems to play a big part in your story. In the book you talk about money issues, and I was wondering, how do you think rap/drug money changed you?
M: Let me first tell you that I always looked at myself as being a very grounded and humble person. With that being said, I can say that money gets the best of us. I think money is an awesome thing, and I think there is nothing bad about having money, but you know, you have to beware. When you have money you don't often realize the people around you like family and friends. If your attitude is just "get money, get money, get money," you'll come off tour and your kids will be all grown up. I experienced that. You just take everything for granted.
I'm not going to condemn everybody and say, "you've got money and you're not paying attention." I hate it when people do that, that's not the case. I'm just sharing my story, man. You can sidestep some of the things I have experienced.
RK: For some rap fans, this book may come as a huge surprise. But, it's clear from listening to Clipse albums that you've always been rapping about your faith. How would you characterize your spiritual journey thus far?
M: Listen, when I was reading about Furnace of Affliction I realized that ever since the first album (Exclusive Audio Footage) I made some sort of reference, that album had a song called "The Prayer." It was an interlude to the album, and every song on every album after that there is some mention of God. With that being said, I would mention that I believed in God, but you would not be able to tell from how I lived. I wasn't a good representative. As I read about the Furnace of Affliction, God said "How can I let myself be defamed?" What I got from that was, as much as you mention God, He responds, "you mention me too much, you're gonna live up to that. You're going to represent me as much as you say my name." He will not be defamed, and I swear that He's talking to me and saying, "since you want to say my name so much, I'm going to put it on you!" (laughs) And, he put it on me, and I don't want to paint the picture of perfection. Trust me bro, there is nothing perfect about me. But, I do know that I definitely have a tremendous love for Jesus Christ. Definitely.
RK: From following your twitter I can clearly see you've been getting a lot of great feedback from the book. What I'm wondering is if you've been hearing any negative feedback from your friends, fans, and especially those you talk about in the book?
M: I promise you, I'm going to tell you this man, I haven't gotten negative feedback. I guy told me today, "the writing could have been more polished," (laughs). I put that out there because I put what I see people saying. Sitting here right now, I can't think of anything people told me they don't like. I'm sure it's somewhere, but they haven't come to me with it yet. Whatever, it does not matter compared to the tons of people who have appreciation for it. This book was such a calling to me that it wouldn't matter. First of all, who wants to do this? I never wanted to put out my story like this. I have kids. I never wanted to do this, but I was so convicted by this experience I knew it was a must. I'd much rather look cool to the public, but I had to take my cool off and say "this happened to me." People may say it's outrageous, but this is not of me, I myself could not do it. I remember a time when I probably wouldn't have mentioned Jesus in an interview. I believed in him, but thought it wasn't a place to talk about it. That's buried now.
RK: So none of your good friends or family have said anything negative to you about their portrayal in the book?
M: When I wrote the book some things were very personal, like the stuff about my older brother. I let him read the book. When something is from God, he is going to give you every tool to let you do what needs to be done. When I showed the book to my older brother he called me back and said it was "fantastic," and "100% true." I had his support, and I think he would have been the one to be the most sensitive about it, but I got his blessings. Even my parents, who I talk about splitting up, they read it and gave me their blessing. Everyone has been touched by this book, and it brings things back into their memory that they even forgot about.
I'm glad you brought up that point because I had reservations, but it's totally about faith, and I knew God was going to work it out. I knew I had to do it. In writing the book, I'm looking at the things I'm saying, and thinking, "are you really about to write that?" When you know you are going to do it there is something that tears you right then and there, and it's like "oooh, I'm doing it. I gotta do it"
RK: Turning back to the lifestyle you portrayed in the Clipse. It's apparent to anyone who follows you, or has heard about you, that you are pegged as a "Cocaine Rapper." You make drug dealing seem quite appealing in your verses. How do you feel about your strong association to cocaine?
M: I feel that it was part of a divine plan, bro. I feel like I can't deny it because my music is real. What maybe I should not have done was make it look like it was the way to go. We had so much, and when were in the studio, or would be on the tour bus, brainstorming and talking about things we had done, we'd come up with a line that everybody who had done what we did, or everyone in our circle, would see as a magical line. It is so much fun, and it gives you chills. You can't wait to get it out on that record. You know who your audience is, and you know all the streets people will be with that, and you know you captured that moment. It was such a great feeling. You're having fun with it, but you're not thinking about the damage it's causing.
It's like two perspectives. One is that you're looking at the art of it. You know you just wrote something amazing, and captured the double entendres and personified something, you know your metaphor was right on, you're thinking about the art of it. Then you're getting that money, and you're not thinking past that. But then, when the Fed's come knocking, and you see all of your entourage, and the people you knew before rap music, shared birthdays with their kids, traveled overseas with, getting locked up to the tune of 32 years, to the tune of 28 years, to the tune of 16 years, you start to think about everything you've said, and the things you were celebrating and ask yourself, "was it worth it?" The truth of the matter is that we've never had enough fun to equate 32 years. When you go to the jail, and you're looking at your man behind glass, and you see his kids and wife, and you know he's in quarantine for that long, it's a wake up call man.
RK: When the Clipse come back with a new record, it will be impossible to disassociate yourselves from cocaine. How can you manage this with your new found ideals? Will Pusha just rap about coke, and you'll ignore it?
M: (laughs) Hey, listen. Imma tell you my thoughts. I feel like on all our records my job was always the cleanup man. What you witness on the Clipse albums when you witness me is someone who was in conflict with themselves, because I knew better. I knew, "yeah, this is good," but I always gave a perspective where I tried to couple it with a reality of it as well. That did not omit me from throwing my ignorance on that. You know what I'm saying? I really did. I think the Clipse is the flash of Pusha, and the intellect of me. I also believe that the end justifies the means. So, I do plan to continue with the Clipse, and our music will be done totally different. I'm going to do the perspective I did, but I'm going all in. You will not here me rap about any drugs, that is dead for me. I don't dare speak for my brother. We'll just go and see whatever is left standing, and whatever falls off the map falls off the map.
RK: Your moniker "Malice" is a loaded name. I've read that you plan on disassociating yourself from it. First, where did it come from? And, why do you feel like now is the time to change your name?
M: I believe that there is so much power in the tongue. I believe that a lot of things we run into, or the pitfalls and trials we have, we definitely bring upon ourselves. With Malice, you only think of Malicious things. It's just that simple. I am disassociating myself with "Malice." When my mixtape comes out I plan on being done with it. Malice actually comes from seeing a video called "Malice" in a movie store. I said, "that's ill, Malice." What I would tell people is "I'm Malicious with the verbs." It's kind of taken on its own meaning. You don't get to explain that.
RK: On the song Virginia you said, "I tired being humble, humble get no respect." How did that mentality impact your early days in rap?
M: I still remember exactly where that thought came from. I remember the fans – I love all of my fans so make no mistake – would come to get autographs, and I would really kick it with them. Then it was like some people would come up in my face and want to rap, and were literally spitting in my face, then they ask for your number and if you don't want to give it to them it's a problem. I really wanted to kick it with these people, but some people are habitual lime steppers (laughs).
RK: On a broader scale, do you think that a lack of humility, and seeing that as something that won't get respect, has plagued a lot of rappers?
M: Yes, I do. You see the thing about entertainment is you can be whoever you want to be, and paint whatever picture you want to paint. If you go through hardships you don't have to mention that. You can be what it is you choose to be.
I chose to be who I am, the real person. I'm so confident about who I am that I can literally show you what I go through. I have highs, I have lows, like anybody else. I don't always win, but I'm thankful to win more than I lose.
It's been my experience that people are looking for, and hunger for a reality. It's unfortunate that people get caught up in different artists, and look for them to be the answer. If I am one of your favorite artists and you look to me, I'm going to give you what's real. I don't have to know you personally to know that I want you to have a nice life. I want you to do well.
RK: Are you worried at all about how this book will impact your reputation within the Hip Hop community?
M: No. I've already done it. It's already in stone. I am sold out for Jesus. To tell you the truth, no one wants to face me in a conversation. I'll do it lovingly of course, and I don't want to turn any people off. I'm not telling you you have to be me, but I do have a right to express myself, and this is who I am. With the fear of God you no longer care what the world will say, what your peers will say. You don't know what it's going to do to your finances when you make a move like this, but that is truly the fear of God because if I did not revere God I wouldn't do it. This isn't an act that I hope will get me anything. This is what I find to be my truth, and that's just it. Nobody can't tell me nothing.
When I was going through what I went through nobody had the answers for me. Not my Mom, not my wife, my friends, girlfriends. No one saved my life, or healed me. When you're faced with that you realize who you call on. You realize. I'm unashamed, bro.
RK: Do you think this will be your only literary adventure? Or, do you plan to write again?
M: There is so much more to this story, and I'm still experiencing things as late as October the 3rd. I have so much more to write about.
Also, my manager and I (Tony G) are working on a book called 32, in reference to the number of years he got in jail.
RK: How is Tony G doing?
M: He's doing well. As good as expected. He's holding his head up. He has a great support system. I mean, he is in jail. Thanks for asking. I think he definitely wants to bring awareness, so that's why we're writing the book.
RK: What has it been like watching your brother (Pusha T) achieve so much success this year?
M: Oh my God. I'm not surprised at all. We've been touring together forever, and I know the star that he is. I think that it's great that more people get to witness it with the new platform he has. Long as his faith is strong, and his soul is right, I expect to see a lot more.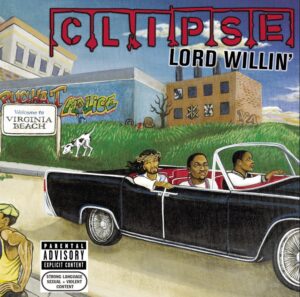 RK: When you look back at the Clipse catalogue, what are some of your favourite tracks?
M: You know that's not a fair question, but if I could name a few I'd mention: The groundbreaker which was Grindin', Cot Damn featuring Ab Liva and Roscoe, Momma I'm So Sorry. How bout' P.U.S.S.Y. (laughs). There's quite a few them.
RK: I've always wondered, who is the girl that does the hilarious rant at the end of Cot Damn?
M: Oh man, I forgot her name. She was one of Pusha's friends. She's definitely one of the home girls from out this way, from Norfolk, Virginia. I can't even believe I forgot her name. But yeah, she was crazy, and said the part funny. That's really her personality.
RK: When you look back at your career in the Clipse, what are some of your favorite highlights?
M: There's been a lot. Definitely traveling everywhere, traveling overseas, being able to see foreigners sing your songs; especially in Japan and Norway. Just watching people really root for you that you don't know, or feel like you have much in common with, is definitely a highlight.
Also, the VMAs with Justin Timberlake was huge. Source awards for Grindin'.
I think the biggest though man is when you look back and you just look at us as little kids coming from Virginia, and you look back at riding the BMX bikes and rapping/freestyling, and then deciding you're going to make demo's, and then you just see it take shape, and look at your accomplishments. I remember just hanging out with Chad and Pharrell, and Pharrell had dreadlocks and cutoffs and goggles. Hanging out with Timbaland, and hanging out at his house making music and having to kneel between his two twin beds, because the mic chord wouldn't reach far enough, and trying to rap. Remembering all that stuff just cuts me deep.
RK: Virginia has a lot of rap patronage: Clipse, The Neptunes, Timbaland. What was it like coming up in the rap game in Virginia?
M: When Teddy Robinson came to Virginia in the late 80s, early 90s, he really put a battery in everybody's back. That was the first time we were witnessing Lamborghini's, and all kinds of cars driving down Virginia Beach Boulevard. You knew that it was Teddy Robinson from Harlem. He breathed so much life into our city. When he allowed us to hang out at his studio whenever we wanted to, it was like, "this is how I want to do it." He showed us how.
Our circle – Neptunes, Clipse, Missy, Timbaland – we all knew each other and had the same friends. We were fortunate to really be apart of it. Now, we have carried that torch and inspired a lot of other people, and everybody in Virginia is a rapper or a singer, and trying to do something. It's definitely a Mecca of talent.
RK: In Toronto, the biggest name right now is Drake. In several interviews, I've heard him shout out Clipse as being highly influential to him. What do you think of Drake?
M: What can I tell you about Drake? I think he is definitely a breath of fresh air. I like his melodies, and I like his lyricism. He cares about good lyrics in a time where lyrics don't seem to be as important as they once were. When I listen to Drake – and I don't really listen to Hip Hop right now – I do enjoy it. What I hear in his music is consciousness and reality, and he let's people in behind all the circus act.
I think we love a lot of our favorite artists when they let us know how they really feel. I think that makes them better artists. So, I am a fan of Drake.
RK: I read a story this week about how Jive (Clipse former label) folded. The Clipse have had a storied history with major labels. What are your thoughts on major labels these days?
M: I think major labels have had their heyday. I think major labels in many instances have reaped the bread and butter of all that was good in a lot of artists. I feel like if you sign to a major label, hopefully, it is worth it to you. You may not have gotten everything that you could have gotten but when the deal was presented you looked at it and thought it suited you.
I also would say that with the internet it definitely changed music, or at least the economics of music. One thing I can appreciate is that it's there for everyone. If that's the new game that we're playing then it's just the game. I think it's good because it gives everyone a fair chance to be seen, to be heard, and to be supported. You don't have to wait around and wait for a major label. You can upload your videos without them. The playing field is level for everybody and major labels have their place.
RK: If you had to pick, who are your top MCs of all time?
M: Alright. Big Daddy Kane, KRS-ONE, Run DMC. There's more: Chuck D and Public Enemy, Rakim. Those are the guys that really lit that match for me.
Lyrically today, Jay-Z. Definitely, B.I.G. Tupac grabbed me after he died. Everybody becomes great after they pass away. When I listen to him now I'm like, "Wow." I don't think I was really getting it while he was alive. After he passed I really listened trying to find the greatness, and I now hear a lot of fire in the things he said.
RK: Are there any musical artists you listen to that people might be surprised to hear?
M:  Let's see. I am a Killers fan, man. I think that a lot of people wouldn't know that about me. I used to tell my brother all the time how dope they were. I saw recently that he tweeted about them when he was at Coachella or something. He saw them live, and loved them.
This is a good one. I love 80s music, yo. David Bowie, man! Bowie is great to me. I remember being on punishment and listening to the radio in my room and listening to David Bowie's "China Girl" and "Modern Love." Right now, I got the best of Bowie!
Oh, and the Eurethymics. C'mon, man!
RK: Nice, "Sweet Dreams".
M: You already know. Straight up.
RK: I have one quick sports question: If Pacquiao and Mayweather ever meet. Who you got?
M: (laughs) How you gonna do me like that? Listen, let me tell you something, this is going to be a political answer. I thoroughly enjoy Mayweather but, to be honest, I have a great love for Pacquiao as well. I really do.
I can't even call, but I just rock with Pacquiao, but that don't take nothing away from Mayweather. I can't explain it.
RK: How's everything going with your clothing label, "Play Cloths"?
M: Man, that's what it is. I had a conversation yesterday with our partner Doug Life, and we were just talking about how well Play Clothes is doing, and how impressed we are with the fall line. We're just very happy with it, and what I really like about Play Cloths is that it's not quote unquote "rapper fashion." It's for everybody. It's nostalgic. It's fresh. This isn't just a sales pitch, I just really enjoy Play Cloths.
In Toronto, you can get it at Livestock.
For More Information on Malice:
1) Read his book Wretched, Pitiful, Poor, Blind, and Naked. Order it online at: www.thorn10publishing.bigcartel.com or www.amazon.com
2) Check out his personal website: www.mademylifechange.com